Construction site security is a vital part of keeping a construction project safe. There are many potential hazards on a construction site, and it is important to take measures to protect workers and equipment from these dangers. According to statistics from the National Crime Bureau and the National Equipment Register, an estimated $300 million to $1 billion was lost due to stolen equipment. On-site security can help to prevent accidents and theft, and ensure that the project stays on schedule. Read our guide to construction site security to learn how to improve the safety of your workspace.
Pikes Peak Security hires the best security guards in Colorado Springs and provides over 100 yearly hours of ongoing training. With construction security services, we can help you develop a safety plan and implement security measures that will keep your staff safe and prevent the loss of valuable equipment.
What is Construction Site Security?
Construction site security is the process of protecting a construction site from unauthorized access, theft, and vandalism. There are many different ways to secure a construction site, but some of the most common methods include on-site security guards, CCTV cameras, and gates.
One of the most important steps for a construction site manager to take is having a security plan in place. This plan should identify potential risks and hazards, and outline how to reduce these risks. It is also important to have a clear policy on who has access to the site, and what areas they are allowed to enter.
Why Is It Important?
Construction site security is important because it helps to protect workers, equipment, and materials from theft, vandalism, and accidents. Construction sites can be dangerous places, so it is important to take measures to reduce the risks. Allowing unauthorized individuals into your site can distract workers or lead to injury. On-site security guards can also prevent workers from entering dangerous areas without the appropriate protective equipment.
Lastly, construction sites are prime targets for thieves since you have valuable equipment and materials in a prominent location. Thieves know that construction sites are often left unprotected at night and can easily slip in to steal tools and materials, which will not only cut into your profit but could delay your entire project. According to the WCCTV, between $300 million and $1 billion in equipment and supplies are stolen annually from construction sites.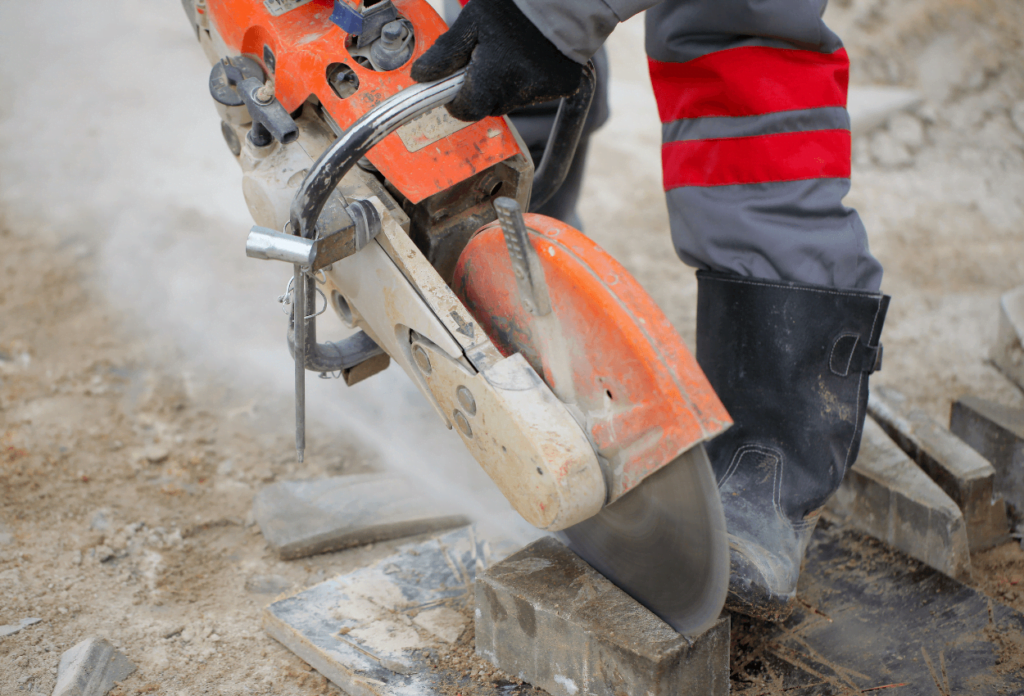 How Can You Improve Security on a Construction Site?
There are many ways that you can improve security on a construction site, but some of the most effective methods include:
Temporary Fence for Construction Site Security
Installing a temporary fence around the perimeter of your construction site is one of the best ways to improve security. A fence will deter thieves and vandals and can also be fitted with locks to control access further. Fences can be made from a variety of materials, including wood, chain link, and mesh.
Construction Security Cameras
CCTV cameras can be used to monitor activities on the construction site 24 hours a day. They can be helpful in deterring crime and can also be used to collect evidence if a crime does occur.
On-site Security Guards
Hiring on-site security guards is another great way to improve security at your construction site. Security guards are responsible for keeping an eye on the perimeter of the site and ensuring that only authorized personnel are allowed access. They may also conduct regular patrols of the site to deter potential criminals.
Register Construction Equipment
You can also help to deter theft by registering all of the construction equipment on your site. This will make it more difficult for thieves to sell the stolen items and will also help the police to recover any stolen equipment. Contact your local police for instructions on how to register equipment.
Post Notices and Signage
Posting notices and signage on your construction site is a good way to deter crime. Signs can be used to warn potential criminals that the area is being monitored by security cameras or that on-site security guards are present. You can also use signs to clearly indicate restricted areas and what PPE is required to enter the area, which protects your workers and makes it easier to identify suspicious activity.
Use a Single Access Point
Designating a single point of entry and exit for your construction site can help to improve security. This will allow you to better control who is coming and going from the site and will make it easier to monitor activity. You can use security gates, turnstiles, or boom gates to control access to the site.
Conducting Regular Safety Audits
Conducting regular safety audits of your construction site is a good way to identify potential security risks. Safety audits should be conducted by a qualified professional who can assess the layout of the site and identify any areas that may be vulnerable to theft or accidents. After the audit, you can implement the necessary changes to improve security on your construction site.
What are the Benefits of On-site Security?
There are many benefits to on-site security, such as:
Improved safety for workers and visitors
Construction site theft prevention
Crime deterrence
Collecting evidence in the event of a crime
Peace of mind for site managers
By taking measures to improve security, you can help to deter crime and prevent accidents.
Let Pikes Peak Security Provide Construction Site Security for Your Next Project
Tired of losing materials and tools overnight, which then have to be replaced at the expense of your company or client? Pikes Peak Security can help you develop a security plan that deters crime. Through patrolling and video surveillance, we can also collect evidence to recover lost equipment and prosecute individuals for theft and trespassing. Contact Pikes Peak Security today to get a quote and learn about our range of construction security services.